Film on Asteroid Impact Featuring Research of SETI Institute Scientists Showcased at SXSW Festival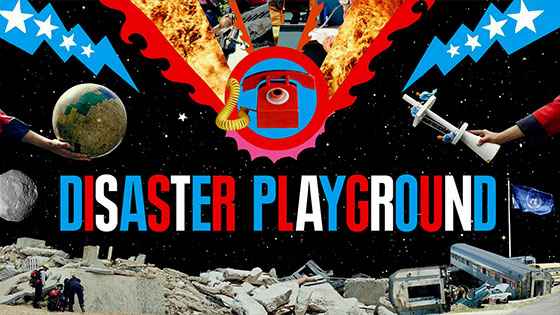 MOUNTAIN VIEW – A film on the threat from asteroids and featuring scientists from the SETI Institute and NASA will be showcased at the upcoming SXSW (South by Southwest)International Film Festival.
The one-hour docu-drama, "Disaster Playground," was directed by Nelly Ben Hayoun, Designer of Experiences at the SETI Institute.  It will be premiered at a festival that spotlights fictional pieces and documentaries, and will be the world premiere of Ben Hayoun's film.
"Disaster Playground" uses real scientists to re-enact what would take place if researchers were to discover that a large asteroid was headed to Earth.  According to the festival literature, the film is a look at "the real-life heroes seeking to save our civilization from the next major asteroid impact," and depicts how such a crisis would be managed.
Disaster Playground Teaser from Disaster Playground on Vimeo.
"It is really a wonderful film, pretty much touching on all aspects of the issue. And it involves real people who are in the center of the work being done," notes Rusty Schweickart, Apollo astronaut and Chairman Emeritus of the B612 Foundation.
"Disaster Playground" is the most recent project from French director and SETI Institute Designer of Experiences Nelly Ben Hayoun.  The film was supported with public funding by the National Lottery through Arts Council England, co-commissioned through Broadway's Near Now program.
Teaming with experts in near-Earth objects as well as specialists in disaster and rescue assistance, and using the talents of well-known artists such as the punk band Prodigy, Ed Banger Records, two-time Grammy Award winner Evan Price, and The International Space Orchestra, Ben Hayoun has crafted a film depicting how a catastrophic asteroid event could be mitigated.
"Nelly's work not only explores the scientific journey of identifying potentially hazardous asteroids, but also the humanistic side of those efforts," says SETI Institute planetary astronomer Franck Marchis.  "The movie is both a documentary and an emotional experience."
"Disaster Playground" was selected for the Festival's Feature Documentary, Vision Category that promotes "audacious filmmakers who are risk-taking artists in the new cinema landscape, demonstrating raw innovation and creativity in documentary and narrative filmmaking." It wassingled out by SXSW Festival Director, Janet Pierson in the blog Indiewire as a 'space movie' in her 6 Highlights of SXSW.
"Hollywood relies on Bruce Willis to save the world in 'Armageddon,'" says Ben Hayoun, "but who are the real-life heroes seeking to save our civilisation from the next major asteroid impact?"
More information on the film can be found on the project website http://disasterplayground.com.  The world premiere at the SXSW festival will be on March 13 at the Vimeo Theatre in the Austin Convention Center (ACC).
Screening dates and images:
http://schedule.sxsw.com/2015/events/event_FS18168
https://www.dropbox.com/sh/4kpwsp41xw8wqzt/AABIfbav_HM7vbCH5Zb4Dm57a